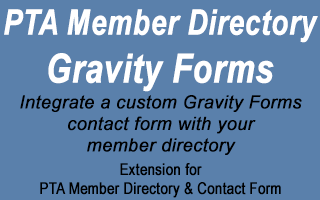 This is an extension for the PTA Member Directory & Contact Form plugin. 
It requires version 1.3.7 or later of the PTA Member Directory & Contact Form plugin.
It also requires the Gravity Forms premium plugin (NOT included) from RocketGenius.
Integrate the powerful Gravity Forms with the PTA Member Directory plugin. This extension for the PTA Member Directory & Contact Form plugin allows you to replace the contact form with your own custom contact form that you create with Gravity Forms.
This extension will dynamically populate fields of your Gravity Forms contact form. You simply set up a hidden ID field, and a recipient drop down select field on your Gravity Forms contact form, and this extension will dynamically populate these fields based on members and actions from the PTA Member Directory plugin. By default, your Gravity Forms contact form page will show all members and/or positions in the Recipient drop down select box (in the options you can select to show individual members, positions, or both). However, if a visitor clicks on a contact link from your site's member directory, then that individual or group (depending on what they click) will be pre-selected in the recipient field when it directs them to your Gravity Forms contact form page. In addition to the recipient, arguments can also be passed via links to only show recipients for a particular location or position.
Version 1.3.0, released April 28, 2015, now adds location parsing in the contact form you set up with Gravity Forms. Simply add a hidden Location field, and set it to be dynamically populated from "location" (without the quotes). Then, if you have Locations enabled in the PTA Member Directory, you can use location to filter recipients on the contact form by that location value. If you have a directory set up to show a specific location via the location argument in the shortcode, then that location will be passed to the Gravity Forms contact form as well when you click on a contact link, so you can use one contact form page for multiple locations. You could also create your own contact links anywhere on your site and add the location argument to then show recipients only for that location.
When the visitor submits your Gravity Forms contact form, this extension will then intercept the notification and set the "to" email address to the selected recipient (individual member or position/group). As with all Gravity Forms, all submissions are still stored in the database. This plugin only alters the notification "to" email address as needed, and doesn't interfere with any other functions of Gravity Forms.
A starter Gravity Forms contact form is included with the download that you can import into Gravity Forms and have the ID and recipient fields set up for dynamic population without any additional configuration from you.  You can then add or modify additional fields as desired.
There are no other options to configure as long as you have those 2 fields set up properly on your Gravity Form Contact Form. This extension will actually populate as many Gravity forms as you set up with ID and Recipient fields, however contact/message links from the member directory will only be directed to the page that you select in the regular PTA Member Directory plugin options.
Screen Shots:
You must log in and be a buyer of this download to submit a review.