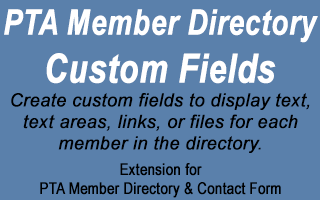 This is an extension for the PTA Member Directory & Contact Form plugin. 
It requires version 1.3.7 or later of the PTA Member Directory & Contact Form plugin.
This plugin allows you to create your own custom fields for the PTA Member Directory.  You can create as many custom fields as you want, and you can choose the type of field and where it will be displayed in the public side member directory.
The types of fields you can currently create are:
Text – A simple one line text field
Text Area – Larger text area, suitable for address fields, short bio, etc.
Link – Can be used to create links to member web sites, or other pages/files on current site
File – Will create a link to a file in the media library or allow you to upload a file
"Link" and "File" types will create 2 input fields on the add/edit member admin screens. One field is for the link/file Title and the other is for the URL. The only difference between these two types is that the "File" type has an "Upload" button next to the URL input field to allow you to either upload a new file into the media library, or choose from an existing media library file.
You have three choices for where to position these custom field columns in the member directory. They can be located after the name column, after the email column, or after the last column in the directory.  You can have multiple custom fields assigned to the same position, and new columns will be created for each custom field in the order that you created the custom fields.
Detailed help is added to the help tab for the PTA Member Directory plugin, and this plugin extension is translation ready.
Screen Shots:
Reviews
It would be nice to see a hide/show feature for Custom fields, just like the phone number field. Also a drop down selection field option would be great. However, this wish list aside, the plugin is simple to implement and works well.
You must log in and be a buyer of this download to submit a review.