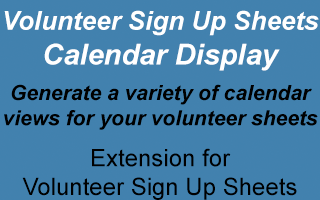 The Volunteer Sign Up Sheets Calendar Display generates a variety of calendar views for the Volunteer Sign Up Sheets plugin.
This plugin requires version 3.6.0, or later, of the Volunteer Sign Up Sheets plugin.
This plugin creates a custom post type registered as "volunteer_calendar", which will show up in your admin menu as "Calendars". From the Calendars menu, you can add a new calendar, view & edit existing calendars, and set global options for all calendars.
You can have as many calendars as you need, each of which will be their own custom post with their own permalink. Each calendar can show All of your signup sheets, or you can specify one or more specific sheets to show on a specific calendar.
Easy to customize via extensive options as well as a easy to use template system. If you wish to modify the appearance, simply copy the plugin's templates and/or CSS file into the specified folder in your theme's folder, and modify as desired.
Calendar is created via a simple table layout that allows cells (days) to expand to display as much info as you want. When the screen width is less than a value that you set, the calendar will switch to a simple mobile view (single column table showing only days that have active tasks/items).
Starting with version 1.2.0, you can now embed a calendar on any page via a shortcode.
Features:
Display a calendar through the custom post, or embed a calendar on any page with a shortcode
Create as many calendars as you need, or use 1 calendar for everything
Define which sheets to show on each calendar via simple multi-select (or, choose "All" to show all sheets)
Can specify a fixed month & year for any calendar, which loads the calendar with that month & year showing and removes the next/prev month nav buttons
Simple set of check boxes for each calendar let you decide exactly which event, task/item, & signup info to show for each calendar
Can set each calendar to show the event/task details in a pop-up instead of trying to list all the info on each date of the calendar
Optional pop-up sign-up form that allows volunteers to sign-up without leaving the calendar page (processed via AJAX). Uses jQuery validate to check fields before submit.
Can clear signups directly from the calendar (Admin can always clear any signup, volunteers can only clear their own)
Can require login to view and/or signup on a per calendar basis
Define exactly how you want the days of the week to appear and the months of the year (global option)
Specify which day of the week to start on (global option)
Define text for pop-up box buttons and window titles
Can specify size of pop-up windows for event details as well as signup form (2 different sets of options)
Can select jQuery UI Theme for pop-up dialog boxes (served from Google CDN)
Can set sheets in main plugin to open in a selected calendar (per sheet), so that the main list of volunteer sheets (main plugin) will go to the calendar page when you click on a "View & Signup" link. This is a new option that you will see on the add/edit sheet page of the main plugin when the calendar plugin is active.
If you set your calendar to go back to the main plugin page for view or signup links on the calendar, the links that normally return you to the main sheet list page will be modified to return you to the calendar that you came from (extra parameter added to URL), and the text will be changed to reflect that you will be taken back to the calendar.
Plugin templates and CSS file can be overridden by simply copying any of the files to a special directory in your theme's folder, allowing you to style and modify the calendar as desired.
Integrates with the Groups extension to allow filtering and/or access restriction by groups (requires version 1.2.1 of the Groups extension)
Please see the docs page for much more detailed info as well as descriptions of every option/setting.
Screen Shots
Reviews
The best part about this plugin is that it shows our volunteers all of the sheets instantly without having to scroll through or change sheets. It has certainly helped with volunteers being able to plan their rosters. Thank you!
The product works great for our scheduling needs. I am an amateur creating this stuff for a non-profit when I couldn't figure out how to use the plugin, I emailed the company, they responded extremely quickly with clear instructions on how to fix my problem. They were even open to making a change to their documentation to add in a little tip for newbies like me. Very professional and helpful!
Thank you
I use the calendar plugin in conjunction with the sign-up sheet plugin. The integration between the two plugins is a real time saver. Prior to using the calendar plugin, I was using a separate calendar plugin which resulted in me having to enter the same information twice and updating two separate plugins if details changed on an event. My one suggestion would be to make the calendar available as a widget in addition to the current full page display.
I purchased this plugin for my son's Cub Scout pack. Right now we are only using the basic sign-up portion, but we run the elementary school snack bar in the spring and this calendar will be a great way to easily convey which spots are still open so that our parents can bookmark one site instead of a bunch of different pages.
My only disappointment came from the fact that this calendar cannot be used for generic purposes. I was hoping to have one calendar for events, volunteering, everything, but if I want the volunteer to show up 15 minutes before the event, then that is the new posted event time.
Other than that, it is a well-made plugin and I found it pretty easy to follow the documentation to get it set up.
Thanks for the review!

Please note that you can check the box for "No Signup Event" when creating/editing a sheet. These will also be displayed on calendars, so the calendar can be used for those type of generic events that don't need signups.
Bought it for a gliding club website to integrate with sign up sheets and installed and working in minutes. Seems a very good addition.
This plugin is great and reasonably priced.
I wanted an alternative to Signup Genius to host on my church's Web site to use for volunteer signups for all types of events: Ongoing, weekly, recurring, and events that go on for a number of days–consecutively and otherwise. I have been using it for a year now, and it has performed excellently.
This plugin is easy to set up for all types of signups, and even folks who "don't do online" have been able to sign up without a hitch. The abilities to duplicate a signup over a range of dates, to duplicated entire forms, and to move new entry fields to existing signups are huge pluses. The interface for me and for volunteers is not slick like Genius, but that is an insignificant price to pay for the level of configurability and control I have over my signup forms.
I also use the calendar plugin, and it's fantastic. Volunteers can see who has signed up for an event (how names show up or if they show up at all is configurable), and sign up from the calendar.
I'm purchasing this again for another website I'm designing. I like the ease of use, and robustness of the plugins. They work well and work well together.
You must log in and be a buyer of this download to submit a review.