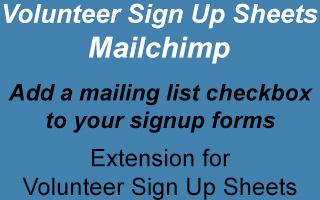 This is a relatively simple and lightweight extension that lets you add volunteers to a Mailchimp email list when they sign up for something on your site.
It will add a checkbox to the bottom of the signup form, and you are able to define the text label for the checkbox, as well as if the default is checked or unchecked. This also works with the Calendar Display extension and will show the checkbox at the bottom of the pop-up signup form (if you have your calendar set to work that way).
If users are signed into a user account, then the plugin will first check to see if their email is already subscribed to your mailing list. If they are already subscribed, then the checkbox will not be shown to those users when they sign up for anything on your site.
In the Mailchimp plugin settings you can specify the list you want to integrate with, as well as any segment or tag you have created for that list.
You must log in and be a buyer of this download to submit a review.