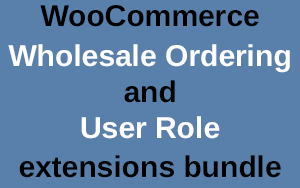 A bundle of my 3 most popular extensions for WooCommerce, at a special discounted price.
This bundle includes:
Try all 3 plugins out at the same time on your own personal demo site
Reviews
I rarely review software, but once in a while there is a developer who is outstanding. Stephen is definitely an "outstanding" developer.
"Patrick" said most of what I had planned to post, and he's absolutely right.
Hats off to a developer with great support, top-notch coding and the ability to understand what "must" be included in a plugin for site owners.
I tried other "Woo" software that is horribly coded and continually overloaded then crashed the server – not the site, the server.
Stephens' software works great – period! It offers more functionality than we expected and now the site is ready to move forward.
Thank you, Stephen. We need more developers like you!
Stephen's plugins like WooCommerce User Role Minimums, WooCommerce User Role Pricing and WooCommerce Wholesale Ordering are very powerful and comprehensive plugin tools for professional enterprises in need of highly complex pricing schemes due to various user roles, different currencies and different languages. Stephen's blazing fast support AND care is unmatched by any other WordPress/WooCommerce plugin provider out there. Stephen not only develops absolutely top-notch and perfect versatile and intuitive to use plugins but also stands by his word and takes customer requests very seriously. His great personality mix combined with his analytical mindset and coding skills enable him to be a true and successful business leader being way ahead of the WordPress/WooCommerce curve.
purchased the bundle, does exactly the things we wanted to. Excellent!!
Support is fantastic, many thanks Stephen we love it, this will make our life so much easier.
Johan
Great plugins package, everything what i need for my shop. Everything works, great support…
Hi Stephen:
I purchased your Wholesale and User Role extensions bundle about a month ago. I finally got around to playing with it on my site.
I just wanted to let you know that I'm very impressed with these plugins. I wanted:
– Products to have different reseller and retail prices
– Resellers to see both their price and a suggested retail price
– Reseller-only products that are hidden from retail customers
– Minimum order to quantity for reseller pricing.
I was able to do everything I needed with URP and URM. I've had several websites and have never found a plugin or bundle of plugins that can do everything in one package. Thank you.
-Ryan
This bundle is fantastic. After searching and trying all the other options we could find out there, these plugins were the only solution that allowed us to do what we needed. The plugins are robust and provide a lot of flexibility so that you can do just about anything you can think of when it comes to adding "wholesale account" functionality to your online store.
We needed a way to have our wholesale customers log into our website and see discounted prices. We have local wholesale customers in Canada as well international wholesale customers in the USA. With the different currencies and exchange rates, we needed to be able to set different rates/pricing for US and Canadian wholesale users. This was a breeze to accomplish with these plugins.
Stephen's support is amazing. He personally replies to support tickets quickly and went far above and beyond what I expected to address any issues.
We encountered a glitch months after everything was up and running. It was due to a compatibility issue between the theme we were using and Stephen's plugins. When tested it with a different theme, the issue disappeared, but changing to a different theme was not a desirable option for us. I reached out to both Stephen and the theme developers. I didn't get much help from the theme developers—mostly just pointed me elsewhere to find a solution. Stephen on the other hand was extremely helpful. He ran tests, diagnosed and kept me in the loop on his findings. In the end, our issue was fixed thanks to Stephen.
You must log in and be a buyer of this download to submit a review.